Weekly | Saturdays
Weekly | Saturdays
Saturday Storyclub - Story and Crafts
May | Wednesday 31
May | Wednesday 31
with Joanne Weston | Childrens party entertainer and storyteller
A fun filled interactive storytelling adventure with puppets, crafts and games!!
10.30 - 11.30am for 2-5 year olds | Meet Herb the Dragon and go into Storyland for a fun adventure with singing, games and a craft activity
2.00 - 3.00pm for 4-9 year olds | We will use puppets and props in Storyland as well as making a craft
Tickets £2.50 per child | payment on booking
Book and collect your tickets in advance at Crown Street Library
June | 24 Saturday - Crossing The_Tees 2017
June | 24 Saturday - Crossing The_Tees 2017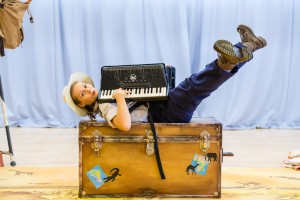 Just Soph
Have you ever wondered how the camel got his hump? Or how the elephant got his trunk?
With original live music, puppetry and a host of curious characters, join storyteller Soph for a very special journey in this new adaptation of Rudyard Kipling's The Just So Stories especially for children aged 3-7 and their best beloveds. All ages welcome!
This event is part of the Crossing The Tees book festival. Booking is essential
Crown Street Library | 10.30 - 11.30am
£2.00 | Book your place by calling 01642 525199 or book online via crossingthetees.org
Rhymetimes - Term Time Sessions
Rhymetimes - Term Time Sessions
Songs, rhymes, rhythm and fun...free
Bookstart Rhymetimes are for everyone!
Babies and children who discover the pleasure of hearing stories and rhymes have a flying start when it comes to learning to read by themselves. Sessions involve a mix of songs, rhymes, rhythm and movement, while providing the opportunity to share games, novelty books and toys.
Find out more about our
Sessions are free with your child's Library card. Library cards are free for all.
Log into your account using your Library Card number and PIN or your Arena username and password