Watch this space for
Events, Talks and Exhibitions
that are happening in Darlington Libraries
Wednesday 11 July | Meet the Author
Mandy Sutter | Welsh writing awards winner 2016
Enjoy an afternoon with Mandy Sutter; poet and author of the novels 'Stretching It' and 'Bush Meat', from Ilkley in North Yorkshire
Darlington Library | 1.30pm
Cost No Fee
Saturday 08 September | Crossing The_Tees 2018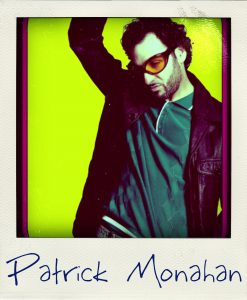 Family Comedy | with Patrick Monahan
Patrick Monahan is the loveable Teessider, known for his hugs, dancing and cake eating! As well as being one of the biggest names on the comedy circuit, Pat is also highly in demand as a studio warm up, working on shows such as Friday Night with Jonathan Ross and The IT Crowd as well as contributing to many talking head programmes and appearing on various Comedy Central shows. Join us for a Family Comedy event for children aged 6+.
Darlington Library | 1.30 - 2.30pm
Cost £2 in advance from arconline.co.uk
07 July - 27 August | Exhibition
Commonplace | Gilkes Street Artists
Commonplace is an exhibition of work by members of Gilkes Street Artists, a Middlesbrough-based studio group. In Commonplace, the artists investigate their personal ideas of the everyday experience through painting, printmaking, mixed media and tapestry weaving.
Crown Street Art Gallery at Darlington Library
Summer display in Local Studies
Summer display in Local Studies
Quaker Women in 19th Century Darlington
Some of the most influential people in Darlington's history have been Quakers. Many of them were wealthy industrialists, bankers, politicians or philanthropists. You may be familiar with the names of Edward and Joseph Pease or Jonathan Backhouse perhaps but much less well-known are the women from these families.
Using photographs, books and other items from the Local Studies collection this small display focuses on some of the Quaker women who also left their mark on 19th century Darlington.
12th July - 28th August 2018
Centre for Local Studies, Crown Street Library
Weekly | Mondays
Weekly | Mondays
The Knitting Circle | Darlington Library Knitting Group
For interested beginners and experienced knitters
Simply turn up and join in!
Darlington Library | 10am - 12noon
Hearing Loss Drop-in Sessions
Hearing Loss Drop-in Sessions
Do you live in Darlington and want to talk to someone about your hearing loss?
Our free information drop in sessions may be able to help you.
We also provide hearing aid support to people who have their NHS Hearing aids supplied by Minor ops.
Second Tuesday of the month | 9.15am - 12.00noon
By subscribing; you are agreeing to receive promotional material from Darlington Libraries via email. You may unsubscribe at any time by clicking the link in any of our emails.