Watch this space for
Events, Talks and Exhibitions
that are happening in Darlington Libraries
Fri 14 FEB | Author Visit
An Evening with Ellie Griffiths
7 - 9pm | Darlington Library
Join us for an evening with best-selling British crime novelist and winner of the Holmes and Watson Award for best detective duo 2018, Elly Griffiths. Find out about her new novel and where she got her inspiration for her Dr. Ruth Galloway and D.I. Stephens novels.
£5 per ticket | Booking required via Eventbrite
Sat 15 FEB | Theatre Perfomance
Mad Alice Theatre Company presents: Rose and Robin
2 - 3pm | Crown Street Art Gallery at Darlington Library
From childhood to old age, Rose and Robin have had a wonderful life together – and they want to share it with YOU! Accessible across a wide age range but targeted for ages 7 years to 70 years and over... read more
£1.50 per person | Booking required via Eventbrite
02 NOV - 09 JAN | Textile Exhibition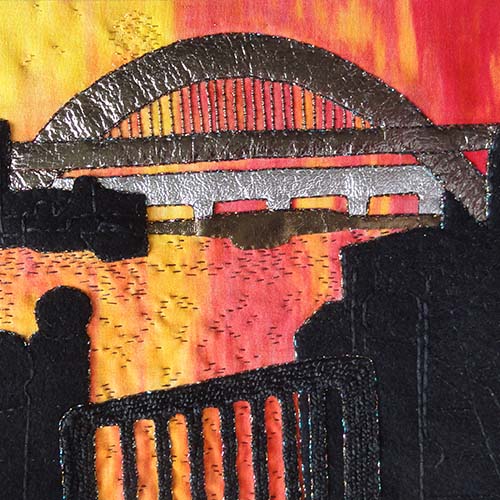 Bridging the Gap | Helen Winthorpe Kendrick
This exhibition looks at the many and diverse ways in which bridges can be built, both physically and metaphorically. There will be a short talk about the exhibition at 12.30pm Saturday 2nd November at the library.... read more
Crown Street Art Gallery at Darlington Library
01 FEB - 03 MAR | Local History Display
150 Years of The Northern Echo
Find out more about the Northern Echo's beginnings, some of its renowned editors and the site it has occupied for the last 150 years, in our latest display. Discover how you can access old copies of local newspapers for free, here at Darlington Library.
Cockerton Library (This is a selection of images from the larger display shown in Darlington Library in January)
04 - 29 FEB | Local History Display
Discover our Digitized Collection |
The Centre for Local Studies has a large collection of images relating to Darlington and the surrounding areas (over 46,000 in fact!). In recent years we have been working hard with our dedicated volunteers to digitise many of the slides and negatives in the collection and make them available online for people to view. Our February display features some of the thousands of pictures we have shared on Flickr; from Darlington's Theatre Royal posters from the 1880s to photographs of the town throughout the 20th Century. Call in and find out more about the digital photo collection and how you can view it
Centre for Local Studies at Darlington Library
Weekly | Mondays
The Knitting Circle | Darlington Library Knitting Group
For interested beginners and experienced knitters
Darlington Library | 10am - 12noon
£FREE (simply turn up and join in)
Monthly | Every First Monday
Audio Book Club | a reading group for people with visual impairment
Come along to our Audio Reading Group where you can select books and discuss favourite reads. Refreshments provided. If you would like more information about the group please call 01325 349610
Darlington Library | 2.00 - 3.00 pm
£FREE
Monthly | Every First Wednesday
Poetry Group |
Whether you are interested in reading, writing or just listening to poetry our monthly group is FREE and open for anyone to attend.
Darlington Library | 2.00 pm
£FREE
Monthly | Second Tuesday of the month
Hearing Loss Drop-in Clinic
Do you live in Darlington and want to talk to someone about your hearing loss? Our free information drop-in sessions may be able to help you. We also provide hearing aid support to people who have their NHS Hearing aids supplied by Minor ops.
Darlington Library | 9.15am - 12noon
POSTPONED FROM 01 MARCH 2019 - Call 0191 917 8886 for replacement batteries and clinical appointments
By subscribing; you are agreeing to receive promotional material from Darlington Libraries via email. You may unsubscribe at any time by clicking the link in any of our emails.