Watch this space for
Events, Talks and Exhibitions
that are happening in Darlington Libraries
07 Sep - 03 Oct | Painting Exhibition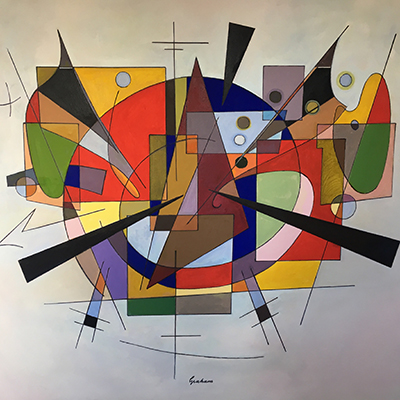 Colourscapes - Colin Graham
'Colourscapes' explores further some of the notions raised in 'A Mind's Eye', predominantly that the focus for outcomes in painting is IDEAS; and that work in an abstract mode has just as much a grasp on reality as work that reflects visually the natural world as it looks.... read more
Crown Street Art Gallery at Darlington Library
Jun - Sep | Local History Display
Wool Town
It's back! Darlington's very own knitted map... and it's on display until the end of September
Centre for Local Studies at Darlington Library
Sat 14 - Sat 21 Sep | Heritage Open Days
Tours of Darlington Library
Saturday 14, Wednesday 18, Thursday 19, Saturday 21 September 2019
For more information and to book your free place; please contact Darlington Centre for Local Studies 01325 349630
Centre for Local Studies at Darlington Library
£FREE - booking essential
Weekly | Mondays
The Knitting Circle | Darlington Library Knitting Group
For interested beginners and experienced knitters
Darlington Library | 10am - 12noon
£FREE (simply turn up and join in)
Monthly | Every First Monday
Audio Book Club | a reading group for people with visual impairment
Come along to our Audio Reading Group where you can select books and discuss favourite reads. Refreshments provided. If you would like more information about the group please call 01325 349610 or email: crown.street.library@darlington.gov.uk
Darlington Library | 2.00 - 3.00 pm
£FREE
Monthly | Every First Wednesday
Poetry Group |
Whether you are interested in reading, writing or just listening to poetry our monthly group is FREE and open for anyone to attend.
Darlington Library | 2.00 pm
£FREE
Monthly | Second Tuesday of the month
Hearing Loss Drop-in Clinic
Do you live in Darlington and want to talk to someone about your hearing loss? Our free information drop-in sessions may be able to help you. We also provide hearing aid support to people who have their NHS Hearing aids supplied by Minor ops.
Darlington Library | 9.15am - 12noon
POSTPONED FROM 01 MARCH 2019 - Call 0191 917 8886 for replacement batteries and clinical appointments
By subscribing; you are agreeing to receive promotional material from Darlington Libraries via email. You may unsubscribe at any time by clicking the link in any of our emails.