Watch this space for
Events, Talks and Exhibitions
that are happening in Darlington Libraries
Wed 10 July | History Wardrobe Live Event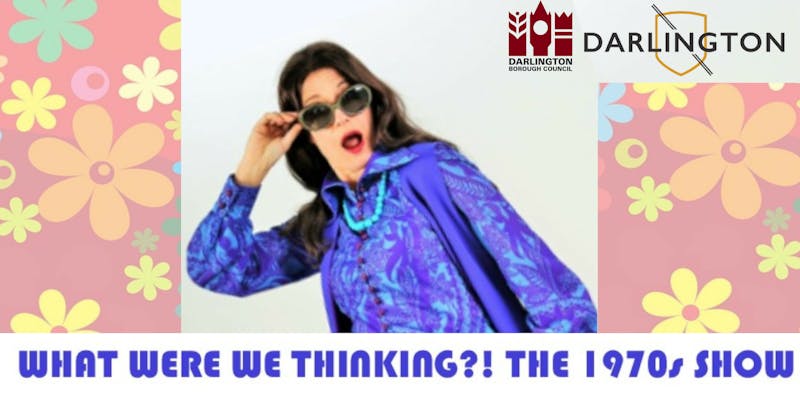 What were we thinking?! The 1970s show
6.30pm | Darlington Library
The two Lucys take on the 1970s in this groovy new celebration of history's most orange-and-brown decade, with Bri-Nylon, Biba, bra-less Women's Libbers... Disco sparkle, psychedelia, Punk, ponchos, hot pants and platforms!
£8 per ticket | Booking required (available from 08 May)
08 - 22 Jun | Crossing The_Tees 2019
All Crossing The_Tees events can be booked via Arc Stockton Arts Centre here http://www.crossingthetees.org/darlington-libraries/
01 Jun - 11 Jul | Art Exhibition
Barrie J Davies' - Greatest Hits
Barrie's fun colourful psychedelic subversive pop art artwork is inspired by street art and has a humorous approach to expose the human condition: notions of success, money, glamour, love, death, sex, gender & religion which are picked at with dry comedic use of tragedy meshed with absurdity. Barrie's work is in many public and private collections worldwide, as well as being by owned by comedian Noel Fielding and superstar DJ Norman Cook aka Fatboy Slim.... read more
Crown Street Art Gallery at Darlington Library
Tue 04 - Sat 29 June | Local History Display
Decorated Darlington | Royal Occasions and Visits
This month we're putting the flags out and displaying items from the collection that relate to Royal Visits and Occasions. Discover how Darlington people have celebrated coronations and jubilees over the years. See photographs of street parties, Royal Shows and official openings and marvel at some of the town's finest decorated shop fronts.
Centre for Local Studies at Darlington Library
Weekly | Mondays
The Knitting Circle | Darlington Library Knitting Group
For interested beginners and experienced knitters
Darlington Library | 10am - 12noon
FREE (simply turn up and join in)
Monthly | Second Tuesday of the month
Hearing Loss Drop-in Clinic
Do you live in Darlington and want to talk to someone about your hearing loss? Our free information drop-in sessions may be able to help you. We also provide hearing aid support to people who have their NHS Hearing aids supplied by Minor ops.
Darlington Library | 9.15am - 12noon
POSTPONED FROM 01 MARCH 2019 - Call 0191 917 8886 for replacement batteries and clinical appointments
By subscribing; you are agreeing to receive promotional material from Darlington Libraries via email. You may unsubscribe at any time by clicking the link in any of our emails.